BEST GUIDE TO
South Miami Beach Florida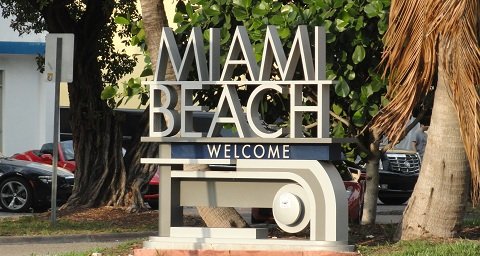 Well, South Miami Beach it's pretty much the most active beach area in Miami, to round it up it could be said that it is about 20blocks north to south and about 15blocks at the widest part of it, for tourists simplicity.

Where is South Beach? In the South-East of the United States you find the State of Florida, and again in the South-East of Florida you find Miami Beach a small island just off the East-coast, at the same level as the Miami International Airport.
Even though getting a taxi cab is very easy here, walking to any point in south beach is very doable especially if the hotel you decide to stay at is close to the middle of the most active areas (Ocean Drive, Lincoln Road and Washington Avenue). A good reference point for this would be Collins Avenue and 14th street, assuming you find a hotel you like nearby (check the hotels section for a lot more details on hotels around there). Also, there are bicycle stations (100 in total in a 20x15 blocks area) where renting a bike is very cheap, you just leave the bike at the station nearest to your destination.

South Miami Beach is just 10mins to Downtown Miami and 15 to the Miami International Airport.
where do most people spend their time?
DAYTIME: South Beach's Beach, followed by Ocean Drive, then Lincoln Road.
South Beach's Beach
Ocean Drive Strip
Lincoln Road
AT NIGHT: Ocean Drive Strip, followed by Washington Ave (for nightlife), then Lincoln Road.
Ocean Drive
Washington Avenue

From right-to-left you have:
The Beach: You won't be able to find the north end of this beach, it goes for miles and miles with just very small brakes; don't bring alcohol or dig in the sand! you'll be fine for it, oh yes...

Ocean drive: The most active street on Miami beach, because it is closest to and with direct access to the beach, mainly full of hotels and restaurants, and is crowded almost all the time with beach goers, people seating by the sidewalk eating and drinking and people watching, people walking, on cars, on motorcycles of all types, on skates & skate boards, on bicycles, taking pictures and all of the alike.
Collins Avenue: Mainly full of Hotels followed by shopping, with some restaurants.
Washington Avenue: Where most nightclubs, bars and lounges are in south beach; followed by restaurants, then shopping, with a few hotels.
Alton Road: The main road on the west side of south beach. The area between Washington Avenue and Alton Road is about 90% residential. Alton road is still well behind in entertainment when compare to all other mention above and below, not much going on here; is mostly a mixture of residential blocks, casual restaurants & businesses.
From south-to-north you have:
South Pointe: the southern tip of South Miami Beach is referred to as South Pointe; is where the beach ends and the entrance to the port of Miami starts, divided by a pier made of huge rocks where fishing from it, snorkeling on the beach side of it and jet skiing on the port entrance side of it, are very common here.

Also, Fisher Island (a secluded island accessible only by water, and only if you are a resident, work there or are invited by a resident) could be seen on the other side of port of Miami entrance from South Pointe park.
5th Street: Pretty much the main entrance to south beach, due to heavy traffic and how wide it is, is avoided by pedestrians. Nothing special to it even though a lot of good places are in and around it like club "play" and "love and hate" lounge, also good restaurants like "China Grill" and "Tap Tap" (Haitian).
Espanolay Way: A one-way Street of which a small section of it is very much like Lincoln road (below)
Lincoln Road: Most of it is accessible to pedestrians only (also referred as Lincoln mall), the walk only section of it starts at Washington and end at Alton road; that section is filled with outdoor seating restaurants and bars, followed by lots of shopping and the alike, plus a few nightclubs like "set", and "score" which is a gay club.
The map below illustrates these areas. Just click on the highlighted areas.
---
Admit it, you like us!  :)
Guide to South Miami Beach FL Page Top